The latest Point Law insights
Prepare your company for the future
Doing business has become a serious concern for many companies in the midst of the global pandemic engulfing us all. Where front-office services at most offices are being suspended with immediate effect until an estimated date or, in some countries, even until further notice, and most non-essential retail shops and services are temporary closed, doing business is a headache-causing advantage.
The current situation in which COVID-19 has high impact on our economy, but also gives the opportunity to become well-prepared for the moment that business can start up again.
PointLaw can assess your currently used documents and contracts and update these to a professional framework on a state-of-the-art level, by providing any considerations to be made in your current:
Purchase contracts
General terms and conditions
Service agreements
Management agreement
Cooperation agreement
Non-disclosure agreement
Assignment agreement
Loan agreement
(internal) guidelines
Privacy statement
Disclaimer
Notice of default
Payment arrangements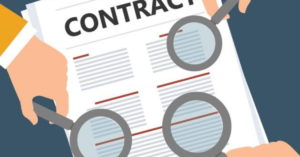 A tailored approach that puts the needs of the clients first.